01/04/2022 - We open the doors of the Magic Tropical Splash Aparthotel in
DEALS FOR YOU
Choose the one that best suits your needs on our official website
Take advantage of the special Magic Days prices! Up to -30% discount

MAGIC DAYSAre you one of those who wait until the last minute to travel? Are you flexible when it comes to choosing dates and want to live magical experiences at the best price? Be part of Magic Days and ...

From:

€68 taxes included.

NOVELTY: Book your MAGIC accommodation including transport (flight) and activities

Travelling makes us happy, and now, we put it within your reach in a fast and economical way! You can now book your MAGIC accommodation with transport included and activities at your destination HERE thanks to Holidays By Magic.. You ...

From:

€47 taxes included.

Campus Experience Real Madrid Foundation

Learn how to be like your favourite player! From 4 July to 26 August, Magic Robin Hood Resort is hosting Spain's first Campus Experience Real Madrid Foundation integrated into a holiday resort.
Learn how to make the best moves, celebrate ...

From:

€260 taxes included.

Best Magic summer ever! From 193 € apt/night with Ultra All Inclusive and one child 100% off

2022 is going to be a summer to remember. It's time to recover your sensations in our resort, come back to sunbathe, slide down fun slides or enjoy an ice cream or a drink by the pool!   Book ...

From:

€193 taxes included.

Bono Turístico Viatgem CV ¡Nuevo Plazo 2022!

¡Ya está abierto el plazo para solicitar el nuevo Bono Viaje 2022 de la Comunidad Valenciana! Los períodos de disfrute del bono (la fecha de apertura de los alojamientos puede variar) son los siguientes: • 17 de enero de 2022 ...

From:

€111 taxes included.

LARGE FAMILY DEAL

Special discounts for big families like yours.

Do you have a large family? This discount is created for you! Enjoy Family getaways with special prices without paying too much. The first two children enjoy the vacations for free and the others have a special 50% discount.

From:

€111 taxes included.

Offer for single parent families

Do you travel alone with your children? Booking the Ultra all-inclusive has many benefits for you. One of them is being able to book your holidays with a single parent rate and enjoy an unforgettable vacation with them in this ...

From:

€111 taxes included.

1st child 100% off

Your little one deserves a great holiday full of games, fun, sun, beach and relaxation - all this and much more awaits you at Magic!



. Book any All Inclusive or Ultra All Inclusive room and the stay of the ...

From:

€93 taxes included.

FREE Shuttle! From 5 nights

In Magic Tropical Splash, we take care of you and your vacation so that nothing worries you. Leave everything to us and think only about your enjoyment. In the booking process, we offer you a free Shuttle service from and ...

Holidays with your pet

Do not leave your pet alone at home

We know how important your pet is to you. That's why we're a PET FRIENDLY accommodation that allows you to stay with your best friend. Enjoy the vacations you deserve and don't worry about anything. We accept pets for a ...

From:

€12 taxes included.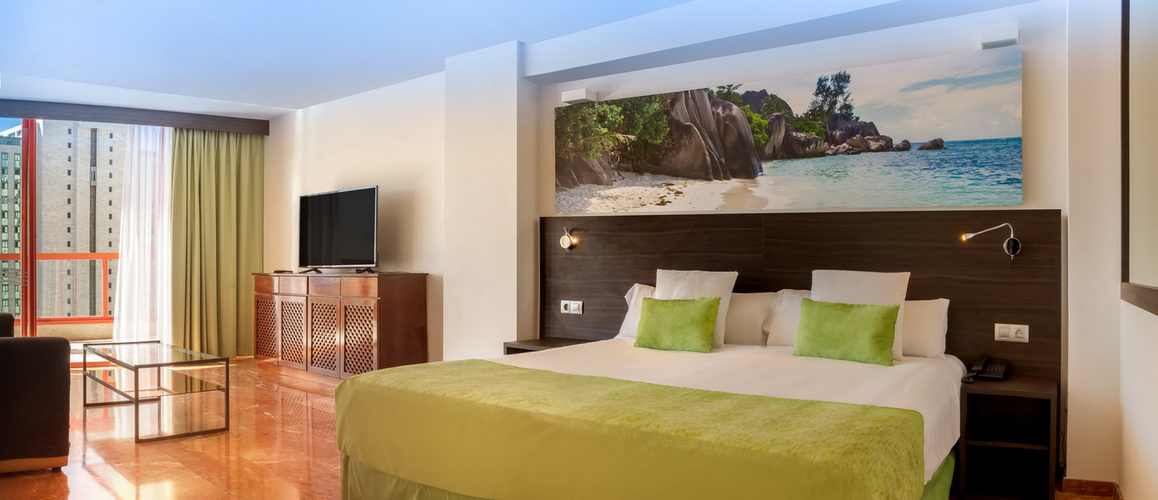 Aparthotel in Finestrat, Magic Tropical Splash
Aparthotel in Finestrat, next to Benidorm
Feel the light, the colors and the warmest tropical atmosphere at Magic Tropical Splash in Finestrat, just 6km from Benidorm and 300m from the Cala Finestrat Beach.

The perfect aparthotel for families with children who like to feel the scale, freedom and comfort of an apartment without giving up all the satisfactions of a hotel. Keep in mind that the All-Inclusive and the Ultra All-Inclusive are available to enjoy them during the day.

3000m2 of fun with last generation water park where you can perceive the Caribbean pirate adventure plus Tropical Splash.

Savor every moment with the All-Inclusive, or even better, the Ultra All-inclusive and forget about paying more. From the food trucks and the unique ice cream cart to the international Caribbean food buffet through the delicious Italian Tropical à la carte and the Pirates Tavern. Our iconic tavern where the pirate theme will make you daydream ... like you were sailing on a ship at high seas!

The best tropical vacations full of pirate adventures and shining colors in Finestrat, at the Magic Tropical Splash, a few minutes away from Benidorm.