We open the doors of the Magic Tropical Splash Aparthotel in
SPECIAL OFFERS
Find out the best online offers in our Official Website
Upgrade for FREE!

FREE Upgrade!

Have you tried our Caribbean Gold Apartments? So this is your chance: stay with us between 15th and 26th May 2019 and you will be able to enjoy a Caribben Gold Apartment for the price of a Caribbean Silver Apartment ...

From:

€65 taxes included.

Book and Save!

Consigue el mejor precio online. Garantizado!

Making your reservation in advance will get you the best advantages. Being the first one also ensures that the price of your reservation will never go down

- Take advantage of our Dynamic Pricing. Depending on the booking date and the ...

From:

€66 taxes included.

Offer for single parent families

Enjoy all the benefits by booking in the one-parent room, where the first child is free and the following ones have a 50% discount. Valid only on ultra all inclusive. Maximum Adults: 1 Maximum number of children: 4

From:

€66 taxes included.

Offer large families

Great discounts for large families!

In large families, the first and second child are free. The others have a discount of 50%. Large families are considered from occupation 2-3-0. Two adults, three children Apply on all inclusive basis

From:

€101 taxes included.

Vacaciones con tu Mascota

¿Por qué dejar tu mascota en casa?

Te regalamos la estancia para tu mascota con tu estancia mínimo 7 noches (menos noches, deberá abonarse 12€ por dia)
Tu mascota (perro o gato) disfrutará de un servicio gratuito de residencia especializada (no incluye comida)
El animal se hospedará ...

From:

€66 taxes included.

FREE Shuttle!

We will take you to your chosen resort

We always try to give the best servicies and facilities during your stay. That's why we offer you the shuttle service. Moreover, for stays of 5 nights or more, this service is for FREE (only available from the booking ...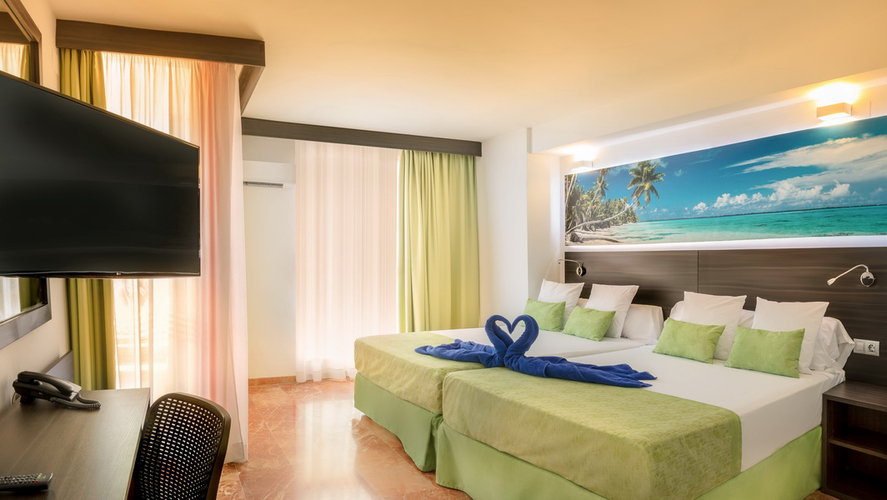 Magic Tropical Splash Aparthotel near Benidorm
Apartotel near Benidorm
A state-of-the-art water park completely renovated in 2016, located in Cala de Finestrat 6 km from the center of Benidorm and 600 m from Cala de la Cala Beach.

Come to the adventure in our Pirates' Adventure water park of over 3,000 m² with more than 6 water slides, Waterplay, Splash Kids and our impressive Pirate Ship over 10 m. Of length, which is the protagonist of our thematic area 'Pirates' Land'

Relax in our 1000m² Swimming Pool - Lake with Jacuzzi area for adults only and sunbathing area with our trendy Bali Beds

Enjoy 300 m² of family with the latest fashionable videogames and the latest virtual reality in Magic Game Experience

Do not miss the opportunity to visit our fabulous Spa or tune into our Gym

Savor our cuisine with the wide variety of Restaurants and Snack Bars open 16 hours a day in our Ultra All Inclusive regime with top international brands.
HIghlights of Magic Tropical Splash Aparthotel