We open the doors of the Magic Tropical Splash Aparthotel in
SPECIAL OFFERS
Find out the best online offers in our Official Website
FITUR 2020

Up to 25% Discount

For this FITUR 2020 we have many promotions ready for your next vacation at Magic Tropical Splash: - Apply the code FITUR2020 on the official website and you'll get up to 25% discount on stays between 17/06/20 and ...

From:

€154 taxes included.

Offer for single parent families

Enjoy all the benefits by booking in the one-parent room, where the first child is free and the following ones have a 50% discount. Valid only on ultra all inclusive. Maximum Adults: 1 Maximum number of children: 4

From:

€64 taxes included.

Book and Save!

Consigue el mejor precio online. Garantizado!

Making your reservation in advance will get you the best advantages. Being the first one also ensures that the price of your reservation will never go down

- Take advantage of our Dynamic Pricing. Depending on the booking date and the ...

From:

€64 taxes included.

LARGE FAMILY DEAL

Great discounts for large families!

Special discounts for big families like yours. Do you have a large family? This discount is created for you! Enjoy Family getaways with special prices without paying too much. The first two children enjoy the vacations for free and the ...

From:

€64 taxes included.

Vacaciones con tu Mascota

Te regalamos la estancia para tu mascota con tu estancia mínimo 7 noches (menos noches, deberá abonarse 12€ por dia)
Tu mascota (perro o gato) disfrutará de un servicio gratuito de residencia especializada (no incluye comida)
El animal se hospedará ...

From:

€64 taxes included.

FREE Shuttle!

We will take you to your chosen resort

We always try to give the best servicies and facilities during your stay. That's why we offer you the shuttle service. Moreover, for stays of 5 nights or more, this service is for FREE (only available from the booking ...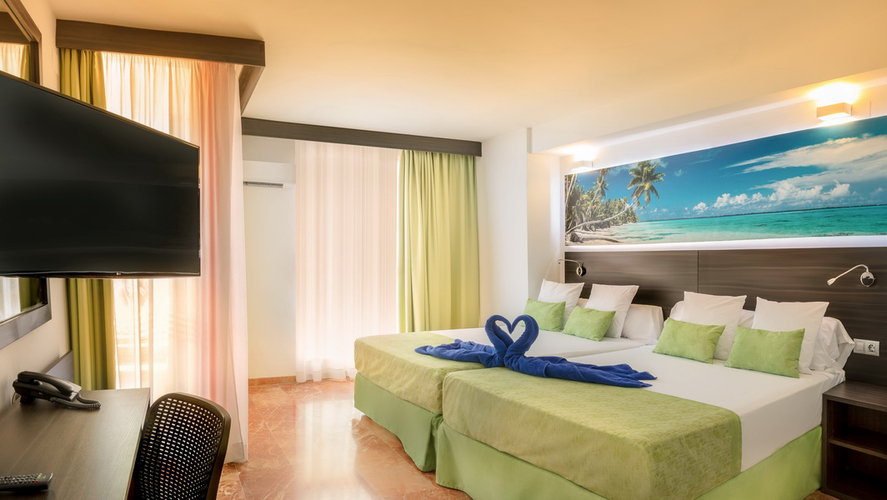 Aparthotel in Finestrat Magic Tropical Splash
Aparthotel in Finestrat, next to Benidorm
Feel the light, the colors and the warmest tropical atmosphere at Magic Tropical Splash in Finestrat, just 6km from Benidorm and 300m from the Cala Finestrat Beach.

The perfect aparthotel for families with children who like to feel the scale, freedom and comfort of an apartment without giving up all the satisfactions of a hotel. Keep in mind that the All-Inclusive and the Ultra All-Inclusive are available to enjoy them during the day.

3000m2 of fun with last generation water park where you can perceive the Caribbean pirate adventure plus Tropical Splash.

Savor every moment with the All-Inclusive, or even better, the Ultra All-inclusive and forget about paying more. From the food trucks and the unique ice cream cart to the international Caribbean food buffet through the delicious Italian Tropical à la carte and the Pirates Tavern. Our iconic tavern where the pirate theme will make you daydream ... like you were sailing on a ship at high seas!

The best tropical vacations full of pirate adventures and shining colors in Finestrat, at the Magic Tropical Splash, a few minutes away from Benidorm.
HIghlights of Magic Tropical Splash Aparthotel